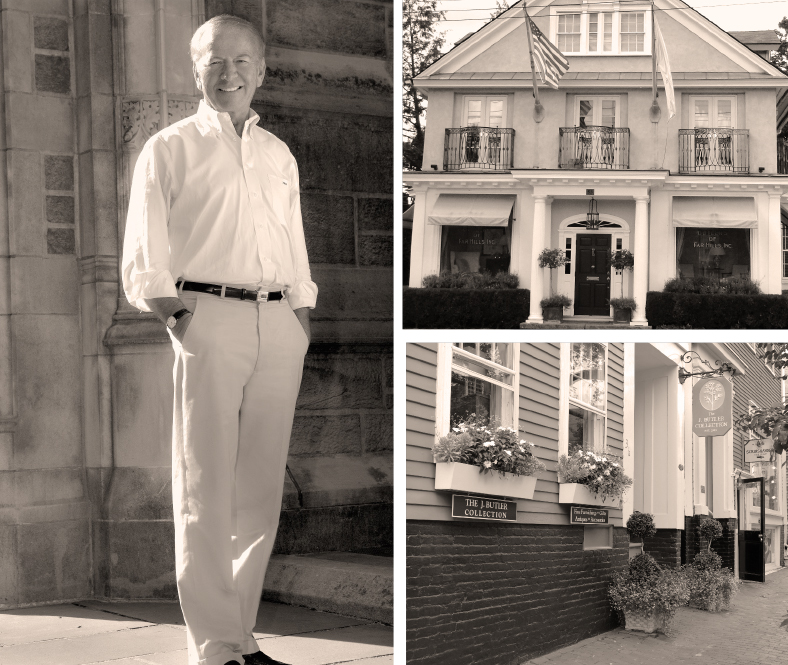 June 1, 2015 - Editor: Heather Cundey
As Featured on The Scout Guide Northern New Jersey Blog
Name: Jeffrey B. Haines
Location: Far Hills, NJ; Nantucket, MA
Occupation: Interior Designer; Owner of BUTLER'S OF FAR HILLS, Far Hills, and THE J. BUTLER COLLECTION, Nantucket
An accomplished pianist, Jeff was a keyboard and voice major in college, but always had a true passion for design, and after a short career teaching music in Cleveland, he quickly worked his way up the ladder of a large design firm there. A native of New Jersey, Jeff opened BUTLER'S OF FAR HILLS, a full service interior design firm and showroom, in 1984 and has graced the pages of many national shelter magazines with his designs in homes from Boston to Palm Beach. Jeff has twice been cited on the House Beautiful list of "Ten Best Show House Rooms" in the country. Throughout the year, while buying for client projects, Jeff takes the opportunity to find items for THE J. BUTLER COLLECTION, a seasonal retail shop on Nantucket open Father's Day through Labor Day. Haines fans line up on opening day every year to see what fabulous finds he's brought with him this year. Antiques, vintage furniture, contemporary framed photos, tabletop items, and hostess gifts are included in the inventory.
Having lived in New Jersey for 20 years with an intense passion for interior design, I had come to know Butler's and Jeff Haines as a style icon, a local celebrity - someone I'd read about in both local and national magazines - and when I'd see the green Butler's truck driving through town, I'd fight the urge to chase after it to catch a glimpse of the impending installation. So admittedly I was nervous last summer when I met Jeff and his daughter Ashley for the first time to talk about The Scout Guide. What I found Jeff to be was very gracious, warm and unassuming, and just as kind and unassuming was his daughter Ashley, a Harvard graduate, the marketing director for Butler's, and a mother of three little ones. After reading about Jeff for so many years, I was honored last month to be able to sit down with him and ask him my own set of questions:
How did your passion for interiors begin, and how did it evolve into a career? I was always very connected to music, art, and architecture. My mother always surrounded me with it, and I often joined my uncle who was a builder on projects as a child. The interior design aspect came out of an interest in architecture. I thought that was the direction I wanted to go in, but after investigating it, I realized the analytical aspect was not my forte - my true passion was really in the finished product, and my strengths had always been in any project in which I was asked to visualize something. I was very fortunate to meet a gentleman who owned four interior design studios in Cleveland, and he became my invaluable mentor.
I had called him and asked to meet with him. I remember walking into his office for our first meeting wearing a seersucker suit, and he was wearing the exact same suit. He took me under his wing and brought me on a buying trip soon after I joined the firm. He promoted me to a buyer right away, allowing me many freedoms to become who I wanted to be creatively. Within two years I was running the entire organization and training the other designers. We participated in a lot of show houses at that time, and I worked on them with designers who were triple my age - I learned a great deal from them by seeing their individual styles.
How do you begin the design process with your clients? I really listen to my client first. I take the time to sit down with them and have them tell me everything they've ever liked. I tell them to give me all the visuals they've ripped out over the years. After awhile I can see that there is a thread of something - and then my task is to figure out how to translate this into a space. I take the high points of what I hear and create a cut board that I keep as a reference to who they are - my board can include ads, logos, pictures, colors, textures, fabrics - all sorts of things to keep me focused on who that person is. I carry this board around with me so that when I do start to visualize the space I can keep focused on the details. It is similar to going into your closet and choosing the things you own that you love the most - shoes, jewelry, hats, scarfs, etc and using those as a reference.
I use the analogy of a book when I talk about a home coming together. A house has to have chapters of high points, but also chapters that are small (hallways) that lead you from one point to another. I begin with the main story (the main living space – entrance, kitchen, family room), move on to the adjoining areas, and then to the master bedroom. Once the flavor of the main story has been nailed down, the others come fairly easily.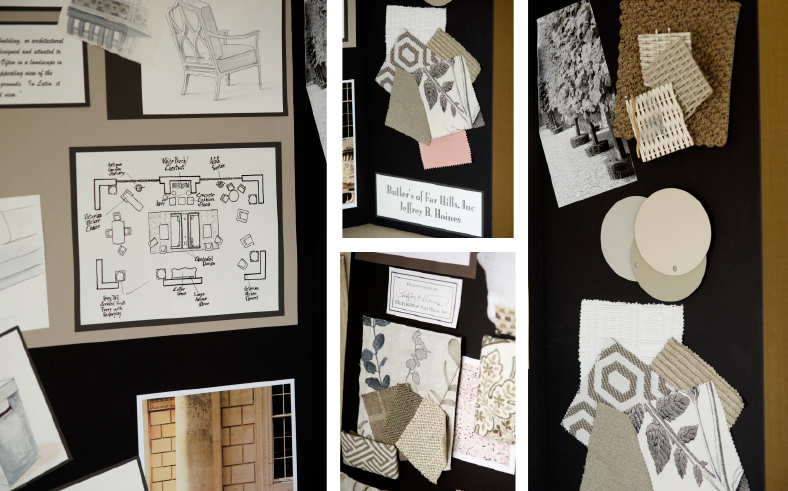 What do you think the most important part of a room is? A floor plan. Sometimes when I've put a room together I jostle and adjust what I originally planned but you have to make sure you have the right ingredients. As long as you have the right ingredients, changing the direction of a chair or an angle on something is easy.
The way the room functions is important. I will often put two conversation areas in a room and clients will tell me that they would have never thought of that, but that it becomes an invaluable part of the room design when friends are over and a few may want to catch a game on tv, while others may want to sit across the room and chat.
I also ask about entertaining styles - How many people do you usually have over? People have a tendency of always thinking about how they are going to celebrate Thanksgiving, or Christmas, and they want to decorate to accommodate that day. I try to point out that it is important to not design the room around one day of the year. I tell them that those holidays will work out, that I can show them how to bring in a great rental table and chairs!
DECORATING IS NOT ABOUT MAKING STAGE SETS, IT'S ABOUT PROPORTION
AND SUITABILITY, ABOUT CREATING A QUALITY OF LIFE, A BEAUTY THAT
NOURISHES THE SOUL. - JEFFREY B. HAINES
An aspect of interior design that is important but often overlooked? I think it is important to relax about the idea of having things match. Details should complement each other but with a sense of juxtaposition. This gives a room the look of being gathered or acquired instead of a "designed" or contrived look as if everything came in yesterday. The nicest compliment I could receive is when a client tells me the space looks as though it has been there for some time - that it has always worked.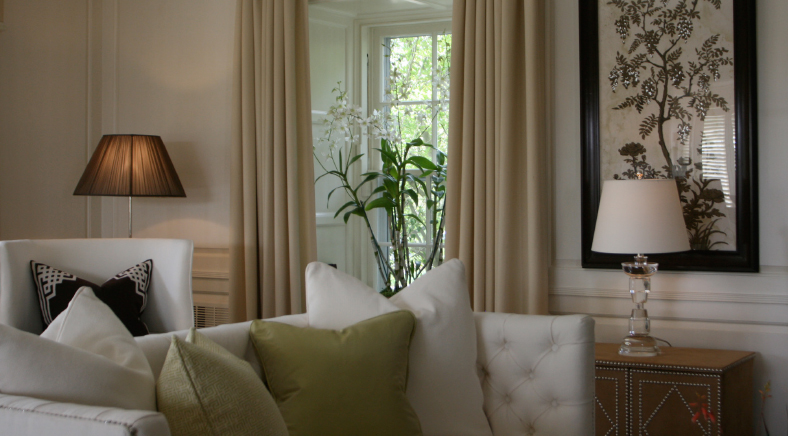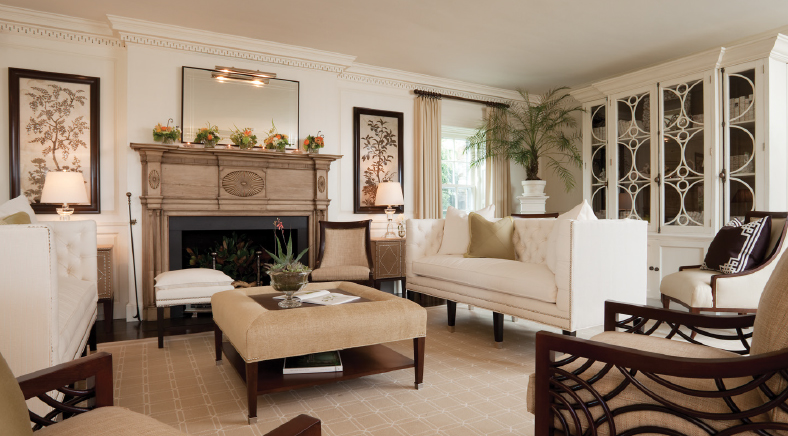 Is there one go-to sofa silhouette that you would say works in most spaces? Yes, I have a go-to sofa that is well made and very comfortable and I will change the size the arm, treatment of the skirt, the leg style, or tuft it in one way or another to customize it. Comfort and depth is so important so it is great to be able to stick to that one brand that you can count on for this, but to also have the ability to easily change the look by adjusting a few simple features. I love using a Billy Baldwin armless chair - they can look very modern and can also look very traditional. Sometimes I will put two together to make a loveseat.
Your favorite room of your home? I love our living room - we use it a lot. We have two chairs set up in front of the fireplace for a nice conversation area. I have a table that I have set up with whatever projects I am working on at the moment. Our piano is in the living room and I play almost every night that we are home. I love the details of this room, and I use them as visual examples for my clients. The beams are original, we added all the moldings and the fan windows.
If you were to re-design your own home, what would you add? I would love to have a screened-in space, a sun room or pavilion with windows all around that are winterized, but that can be replaced with screens in the warmer weather.
The best advice you've received? Go with your first response, your first creative direction. Don't angst over it, just go with it - especially when it concerns creativity. And don't be fearful or worry, try to take the attitude that you are exactly where you are supposed to be right now. Don't regret the past, don't worry about future. Look around and observe what is happening right now. Be in the moment and enjoy the moment - it takes the pressure off.
Who or what is inspiring you right now? My clients are inspiring me. I've been fortunate lately to work with a new type of client. They want me to create a lifestyle for them. For many recent clients, this is the second or third home I have designed for them and I know how they live. They want me to be involved in all of the choices starting from the very beginning - such as choosing the architect, the builder, and even the location. They do not want to be as involved. They say to me "knowing we like horses or golf or the beach, etc where would you suggest we build a second home?" They tend to want me to design a modern home or something very different from what we've done in the past, but they tell me they trust that it will have my stamp on it.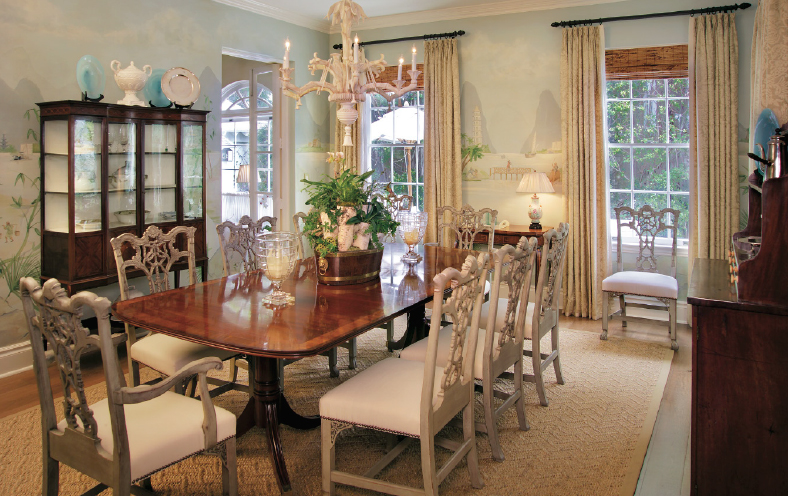 Do fashion and interior design coincide for you? Absolutely. When I'm in Palm Beach for projects, I wander down Worth Avenue looking for inspiration. I check out the colors and styles in clothing boutiques and take photos. I also love the designer floor in Neiman's - the trim on clothes or a neckline can be inspiring and it could end up on one of my design boards.
Who are your style icons? Oscar de la Renta has been a style icon in our home for a long time. My wife Patty has worn his designs often over the years and I have taken great inspiration from all of his homes. And Mark Hampton - I love his overall persona. My daughter Brittany, an interior designer in San Francisco, and I met his daughter Alexa Hampton who now runs the company he founded. Alexa understood the uniqueness of the father and daughter design relationship and speaking the same design language together. She even got a little misty eyed as she referenced being a second generation designer herself and having her father as her mentor.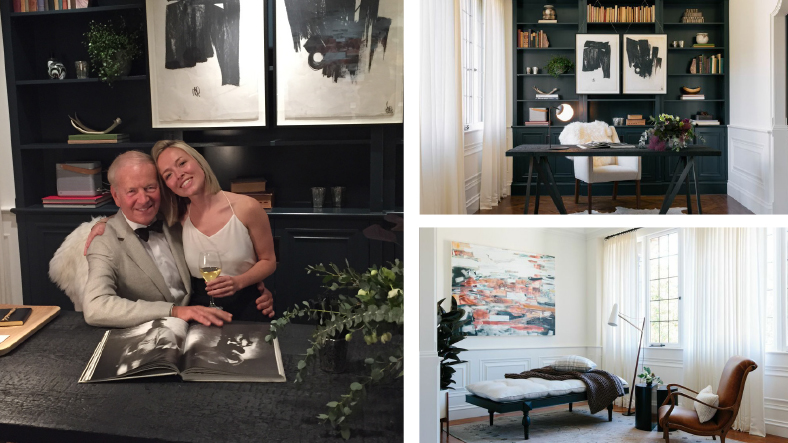 Left: Jeff and daughter Brittany at the San Francisco Decorator's Showcase April 2015; Top-right;
Bottom:-right; "His Office" in the Decorator's Showcase by Authenticity B. Designs, Brittany Haines.
You and your wife Patty have been very involved in philanthropy over the years. Tell me about a cause that is closest to your heart. Since the 1980′s, we have been very involved with organizations supporting individuals with disabilities by serving on boards, mentoring parents, and planning and stylizing galas and fundraisers over the years. Patty worked hand in hand with out school district to include Allison, our middle daughter who has Down's Syndrome, into our school district. I have been involved with the ARC of Somerset County (Association for Retarded Citizens) and most recently NJCIE (New Jersey Coalition for Inclusive Education). Patty is the chair of the board of NJCIE which assists in making inclusive education succeed. Building confidence and creating a supportive environment both for children and adults with disabilities is very close to our heart as a family.

The Facts:
I could never own too many: Checked shirts.
Your go to outfit: Khakis (pants or shorts); Brooks Brother's loafers, well-worn with no socks; checked shirts, monogramed on the pocket and rolled-up sleeves; a blue blazer.
Color I never tire of: A very soft blue.
Indispensable design element: Great lamps and shades.
Flower: A garden rose in any color - the very large species that resemble a peony.
Fabric/textile: I love quilted linens right now.
Drink: My own Cosmo concoction. It looks more cranberry than pink; no lime juice; stirred not shaken; no fruit.