As a young man, Jeff Haines had his sights set on a career in music. It wasn't until midway through his program of study as a keyboard and voice major at a liberal arts college within The Conservatory of Music in Cleveland that he began to grapple with his professional future. Jeff was distracted by the persistent tugging of his other lifelong interest – that for the arts and design. "I slowly came to realize that I had more passion for design," recollected Haines during a recent telephone interview.
Shortly after graduating – with dual degrees – Haines took a job with a well-known firm in Ohio, quickly rose through the rocks and, as a senior designer, handled many of the firm's most prestigious commercial and residential projects. In 1984, he moved back to his native New Jersey, opened Butler's of Far Hills and was soon recognized as one of the most sought-after designers in the region. Six year ago, he opened The J. Butler Collection in Nantucket, an exquisite showroom of antiques and accessories that reflect the color palette and design signature he has defined for the season.
Today, Haines has repeat clients so admittedly devoted to his sophisticated (but not stodgy), tailored and elegant design sensibility that they wont buy a house without his opinion. Trying to get a handle on what they love about his work isn't easy. They say rather vague things like, "I don't know what it is; it just works. The rooms flow, the colors are perfect. You just want to experience every detail." One client said that when she and her husband returned to their home – Haines politely requests that his clients leave the property during the final installation – they spent hours walking through with a flashlight (a snowstorm had caused a power outage), running their hands over tabletops, fluffing sofa cushions, peeking around corners- marveling at every detail.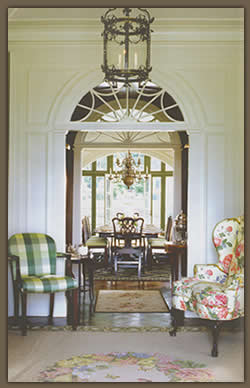 Another client was equally transfixed. "You start with the macro when you first walk into a room and you are floored by it," he mused, describing Haines' work at his main resident in a pretty New Jersey town. "Then you want to look at the micro – at a needle-point chair, at a fabric of the window treatment, at the unusual detail on a table lamp. Every room just ratchets up your experience another notch- and then you walk into the next room - and he has surpassed them."
Haines responds modestly to praises of his work, to comments his clients make about his uncanny ability to "nail down exactly the look they are trying to achieve," who are so confident in his work that they basically give him carte blanche. His gentlemanly appearance bespeaks his manner. Soft-spoken and reflective, he describes his design aesthetic in analogies: "I think my work has a handsome sense of appropriateness; there is no decorative frill. It's as if you put on a handsome suit, with the right tie, shirt and shoes – you're not necessarily trying to make a major statement – it's just that it's classic and it works."
To achieve his timeless and elegant design style, Haines first looks to the space and the proportion of the room as a springboard, calling upon these element to influence the massing of furniture, the seating arrangements, the traffic flow, the selection of fabrics for upholstery and window treatments. Good space is like good bone structure, he explained. "If you use a piece of furniture, a rug or a fabric as a starting point, the room ends up looking jus decorated, not well or thoughtfully designed," he said.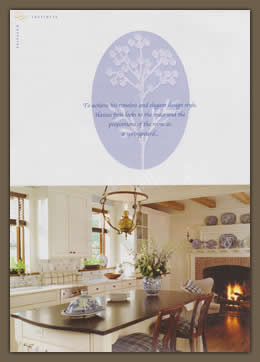 Mary Alice and Joe Smith had seen Haines' work at a designer show house in New Jersey. When they decided to purchase "Beachtree," a circa1950s Tudor-style home in the picturesque Somerset Hills, they knew they needed his help to brighten and modernize the dim interior.
"Our realtor had really discouraged us from looking at the house, it was that bad," said Mary Alice. "But we fell in love with the outside and saw the great possibilities of the inside."
Haines was instrumental in the subsequent two-year renovation, which included opening the entire back of the house to take advantage of the lovely Cotswold-style gardens, adding a kitchen and second-floor master bedroom suite and completely reconfiguring the floor plan. While originally, the boxy rooms all opened from a dreary center hall, Haines broke through the walls, maximizing a visual flow from room to room, adding windows and French doors and creating spaces, as Mary Alice explained, that wouldn't appear on a blueprint. "Before, you couldn't be in a room without looking at the walls," she said. "Now if you're sitting in the library, you can see through the foyer, to the living room. Every room has a view, there is such a nice perspective, no matter where you are."
In an effort to respond to the classic, Tudor exterior and grounds, Haines selected a serene color palette of soft beiges and blues to complement the landscape and created a traditional interior that echoes the English design tradition reminiscent of the venerable New York decorator Sister Parrish – who ironically had had a studio near Haines' current location in Far Hills. Every detail of the interior is thoughtful and purposeful, but what resonates so clearly is that this is a comfortable home. It is as right for formal entertaining as it is for curling up in front of a roaring blaze with a favorite pet.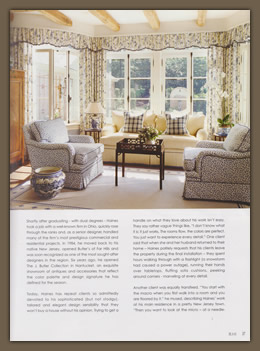 Haines has a well-trained ear and is accustomed to a new clients' remorse when asked to describe what style they envision for their home. It is often, he explained, a matter of a lot of listening, coupled with a fair amount of intuition – and in the end, of walking a line right through the middle of both.
"A client will show me a photograph or an ad and say, 'I don't know why I like the feel of this," he said. "But after you listen for a while, you get a thread of what he likes, of what he is affected by."
It seems many of Haines' clients are grateful for his masterful intuitive sensibility. One, an admittedly Type-A personality, hired Haines after interviewing numerous well-known designers. "He asked all the right questions," said the client. "He seemed to viscerally understand exactly what we wanted just by looking at the floor plans. "
That job turned into a massive restoration project on a 9,000 square foot residence. Haines' job description was broad; he assumed a role in everything, from helping to select the right grout stain and joint width for the exterior stone work to choosing the artists to do the faux finish in the breakfast room. In the end, the partnership between client and designer was so successful that they are currently working together on a third project: A New York City apartment in Robert A.M. Stern's new luxury high-rise on Central Park South.
The contemporary design of the building is a bit of a departure for the client, who has always embraced more of a traditional sensibility. "I have few instincts in modern style," he admitted, "I know this has to have more of an edge to it."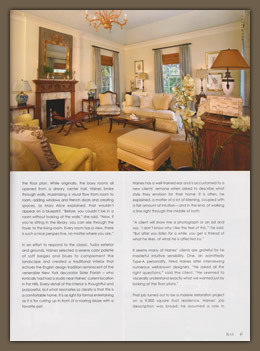 While Jeff has been pouring over the floor plans for the new residential tower for months, he will not be able to get into the space until the building is completed. He is well-aware of his client's comfort zone, but is not at all afraid to stretch those boundaries. "We are going to do a whole different thing for him, said Haines. "It will be based in good design tradition, so it's always appropriate – but it will be more contemporary and right for the city."
Between his steady stream of clients and intensive schedule of buying trips, Jeff enjoys very little downtime during the year. While in Nantucket, where he and his wife own a summer home, he prefers to focus on the J. Butler Collection, his shop on Centre Street, which is open seasonally from June through September. Haines has designed the space to be a complete sensory experience, with lovely furnishings and accessories, inspired window treatments and texture fabrics- all almost transportable as one complete and thoughtfully designed room. While that has actually transpired on more than one occasion, Haines really views his shop as a way for people to understand his design philosophy, to get a sense of the atmospheric quality that he strives to achieve in his design. "The J. Butler Collection in not just a shop full of antiques," he said, "it is a collection, with a purpose for that season."