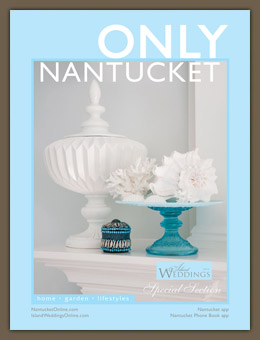 Oftentimes, the name of your business gives customers some idea about what they might expect to find inside your store. So, when your business name includes the word "collection," you'd best have something resembling a collection inside your front door. And if you happen to use your own name in the business name, too, you're ramping up the expectation factor.
Jeffrey Butler Haines, owner of the J. Butler Collection, can relate, as his storefront at the corner of Centre and Hussey Street bears both his own name and the promise of a vast repository of treasures inside. Suffice to say that shoppers aren't disappointed by either the man or his collection, because both components of the store's name are incredibly impressive.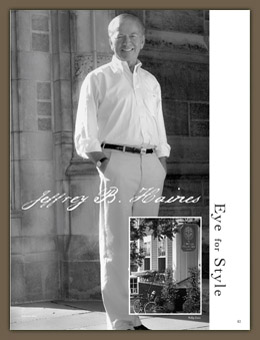 Originally from New Jersey, Jeff Haines began coming out to Nantucket with his family nearly thirty years ago for vacations. Like so many before him, he fell in love with the island. "We just kept realizing how much we enjoyed being here," he recalled, "and so it just made sense to open another shop on the island." A careful reader will no doubt notice the reference to "another shop" in that previous sentence. The Nantucket-based J. Butler Collection is the sister store to Haines' original New Jersey-based design showroom, Butler's of Far Hills.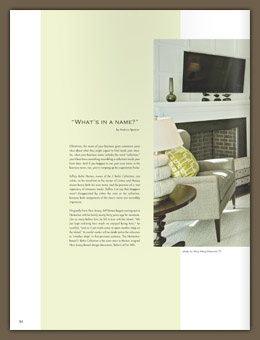 As a designer, Haines' accolades are as extensive as the antiques and other treasures that populate the J. Butler Collection. He has seen his name twice on the prestigious "Ten Best Show House Rooms" list in House Beautiful, and his designs have graced homes and magazine covers up and down the East Coast. But those awards and bragging rights are only part of what Haines brings to the table when working with clients. Perhaps his greatest gift – outside of his impeccable sense of style and his uber-creative thinking – is his ability to instill in his clients the self-confidence they need to fully express themselves. He related a story that, to my mind, captures the full essence of Haines' style. He enjoys the challenge posed by placing things that don't necessarily fall under the rubric of standard decorating pieces, and one client in particular presented a unique test. He had a collection of silk neckties that, even though he never wore them anymore, were a part of what he saw as his personality. Haines and his team transformed the ties into unique and beautiful pillows, thus allowing the client's own tastes to shine through in a functional and extremely creative way.
"Most of my clients already have a good sense of style." Haines explained, "but they're not confident in putting it all together. They know what they like, but they're unsure how it all fits." That's where Haines enters the picture, as he meets individually with his clients to find out more about them and what they like. He'll ask clients to bring things that they like to their initial meeting – photos, decorative pieces, whatever – to help him get a sense of what is important to the client. The conversation then turns to colors – do you like white or cream? Pink or coral? – with Haines gauging his clients' reactions to each option. From there, it's just a question of translation those preferences into an interior living space. "My goal is to create a place where you really like to be," Haines said, "I want to make someone feel good in their own environment." While that sounds like a simple enough goal, anybody who's tried to decorate a room themselves knows the difficulties inherent in achieving it.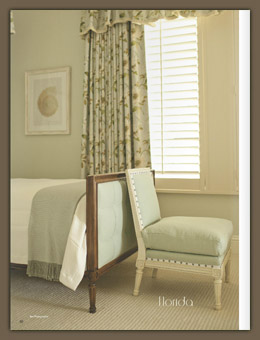 But those who have been fortunate enough to engage Haines' services rave about the spaces he creates for them: "You made my dreams come true," wrote one client, whereas another said that "the results are magnificent." Te testimonials from happy customers alone could fill up the pages of this article, because there are just so many from which to choose.
As for the shop here on Nantucket, opening day is always a much-anticipated event. Every year on Father's Day weekend, devoted fans of Haines' style line up to see what fabulous finds he's brought with him to Nantucket for the summer. Because the shop is only open for three months out of the year, customers snap up the inventory quickly. What doesn't get sold before Labor Day typically goes to other clients off island, so don't expect to see the same items next year. That constant change is what keeps people coming back every June to see what new items are included in the current collection.
Though the shop's inventory is quite varied, ranging from antiques to vintage furniture and everything in between, Haines is quick to point out that it's not a garage sale-style smorgasbord of random things thrown together. "It's a look," he explained. "Every year is different, but everything in the shop composes a very specific look and feel. It's a true collection in every sense of the word."
The J. Butler Collection will always be something new, but will always stay true to its name.