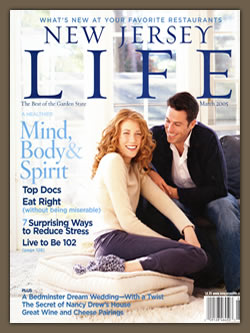 When Ashley Haines needed someone to plan her dream wedding, she turned to the man whose encouragement, love – and style- she knew she could trust: her dad.
When Ashley Haines brought her college boyfriend, Jeff Bastow, home to Bernardsville for the first time in December 2001, her new beau got thrown into a true test of fire right off the bat: attending a black-tie benefit with his girlfriend's parents at Fiddler's Elbow Country Club in Bedminster, where they were members.
He passed- beautifully. As Jeff and Ashley took to the dance floor and her parents caught a different kind of sparkle in their daughter's eye, "we knew that night that this was probably it," Ashley's father, Jeffrey Haines, says today. "It looked like this was going to last a while."
Indeed it did, culminating in a gorgeous wedding reception for 260 guests last July at – where else? – the elegant English-style manor house at Fiddler's, where the couple had taken that first swing dance three years earlier.
But perhaps the loveliest element of the affair is one you can't see in the dazzling pictures: the fact that the man who walked Ashley down the aisle also walked her through her wedding planning. "Fathers are typically told, 'Sit down, shut up, and pay up,'" Jeffrey says. "And so, when I talk to other fathers about it, I always say, 'There's something in there that you can do, something that you can be a part of.'"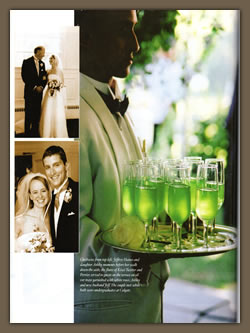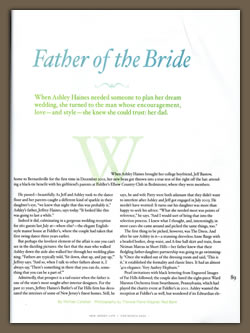 Admittedly, that prospect is a tad easier when the father is one of the state's most sought-after interior designers. For the past 20 years, Jeffrey Haines's Butler's of Far Hills firm has decorated the interiors of some of New Jersey's finest homes. Still, he says, he and wife Patty were both adamant that they didn't want to interfere after Ashley and Jeff got engaged in July 2003. He needn't have worried: It turns out his daughter was more than happy to seek his advice. "What she needed most was points of reference," he says. "And I would sort of bring that into the selection process. I knew what I thought, and interestingly, in most cases she came around and picked the same things, too."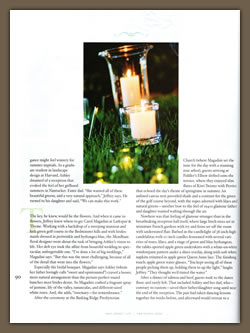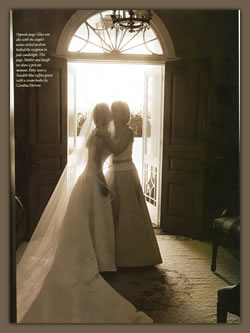 The first thing to be picked, however, was The Dress. And after he saw Ashley in it – a stunning sleeveless Anne Barge with a beaded bodice, drop waist, and A-line ball skirt and train, from Neiman Marcus in Short Hills- her father knew that their fledgling father-daughter partnership was going to go swimmingly. "Once she walked out of the dressing room and said, 'This is it,' it established the formality and classic lines. It had an almost '40s elegance. Very Audrey Hepburn."
Pearl invitations with black lettering from Engraved Images of Far Hills followed; the couple also hired the eight-piece Ward Marston Orchestra from Swarthmore, Pennsylvania, which had played the charity event at Fiddler's in 2001. Ashley wanted the reception at Fiddler's as well, but wondered if its Edwardian elegance might feel wintery for summer nuptials. As a graduate student in landscape design at Harvard, Ashley dreamed of a reception that evoked the feel of her girlhood summers in Nantucket. Enter dad. "She wanted all of these beautiful greens, and a very natural approach," Jeffrey says. He turned to his daughter and said, "We can make this work."
The key, he knew, would be the flowers. And when it came to flowers, Jeffrey knew where to go: Carol Magadini at Larkspur & Thyme. Working with a backdrop of a sweeping mansion and lush green golf course in the Bedminster hills and with bridesmaids dressed in periwinkle and hydrangea blue, the Mendham floral designer went about the task of bringing Ashley's vision to life. Her deft eye took the affair from beautiful wedding to spectacular, unforgettable one. "I've done a lot of big weddings," Magadini says. "But this was the most challenging, because of all of the details that went into the flowers."
Especially the bridal bouquet. Magadini says Ashley (whom her father lovingly calls "sweet" and "opinionated") craved a looser, more natural arrangement than the picture-perfect round bunches most brides desire. So Magadini crafted a fragrant spray of jasmine, lily of the valley, ranunculus, and different-sized white roses. And, she adds, "rosemary – for remembrance."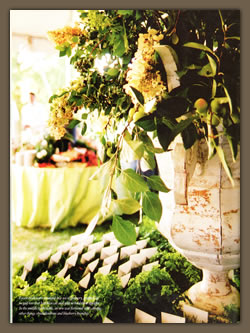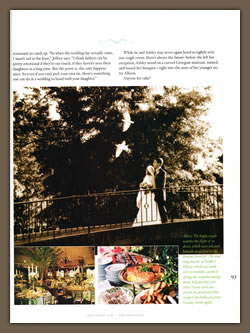 After the ceremony at the Basking Ridge Presbyterian Church (where Magadini set the tone for the day with a stunning rose arbor), guests arriving at Fiddler's Elbow drifted onto the terrace, where they enjoyed slim flutes of Kiwi Twister with Perrier that echoed the day's theme of springtime in summer. An unlined canvas tent provided shade and a contrast for the green of the golf course beyond, with the ropes adorned with lilacs and natural greens – another bow to the feel of the 1940s glamour father and daughter wanted wafting through the air.
Nowhere was that feeling of glamour stronger than in the breathtaking reception hall itself, where large birch trees set in miniature French gardens with ivy and ferns set off the room with understated flair. Bathed in the candlelight of 38-inch-high candelabras with 10-inch candles festooned with several varieties of roses, lilacs, and a tinge of green and blue hydrangeas, the tables sported apple green underskirts with a white-on-white windowpane pattern under a sheer overlay, along with soft white napkins trimmed in apple green Queen Anne lace. The finishing touch: apple green water glasses. "You kept seeing all of these people picking them up, holding them up to the light," laughs Jeffrey. "They thought we'd tinted the water."
After a dinner of salmon and beef, guests took to the dance floors, and rarely left. That included Ashley and her dad, who – contrary to custom- saved their father/daughter song until near the end of the reception. The pair had taken dancing lessons together for weeks before, and afterward would retreat to a restaurant to catch up. "So when the wedding day actually came, I wasn't sad in the last," Jeffrey says. "I think fathers can be pretty emotional if they're out of touch, if they haven't seen their daughter in a long time. But the point is, this only happens once. So even if you can't pick your own tie, there's something you can do in a wedding to bond with your daughter."
While he and Ashley may never again bond so tightly over one single event, there's always the future: before she left her reception, Ashley stood on a curved Georgian staircase, turned, and tossed her bouquet – right into he arms of her younger sister Allison.
Anyone for cake?