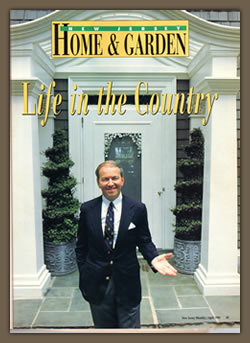 If you frequently peruse the glossy pages of home magazines, you've probably seen the fruits of his labor. His designs have appeared on the cover of Colonial Homes and inside House Beautiful. Every major show house in New Jersey vies to give him the best room- and considering how political such charity benefits tend to be, that's quite an honor. In the six short years since he started his interior design firm, Butler's of Far Hills, Jeffrey B. Haines has become something of a design celebrity, both in state and out.
Although he has made forays into neoclassical interiors with a streamlined modernist bent, he is best known for English country-style interiors. Haines's rooms have all of the accoutrements of the Anglo traditions: flowery chintzes and cushiony armchairs, boxes and bibelots, needlework and other niceties. Like the rooms that inspired them, hispossess an unmistakable air of good breathing, yet exude charm. They invite the visitor to relax, read a good book, sip a cup of tea by the fire – and not take things so seriously.
Perhaps the finest example of his style is his own house, which he finished decorating just last year. It was "love at first sight," says Haines, when he and his wife, Patty, walked into the turn-of-the-century Georgian house in the heart of New Jersey hunt country. Built on the grounds of an estate that had long since been divided, the structure hadn't been cared for inquite some time. The foyer had a tile floor lilting toward the middle. "You ran in the house, and walked hard out of it," recalls Haines. The rooms lacked interesting architectural details, and the fireplace mantels – there are six of them – needed the correct marble and finishing work. There was a dilapidated lean-to greenhouse tacked onto the side of the house; the kitchen was a disaster. But Haines wasn't fazed. What else is an interior designer for? Without changing one stud, he transformed the house from a bastion of neglect into a gracious residence.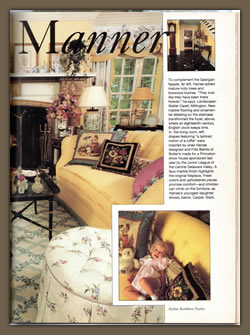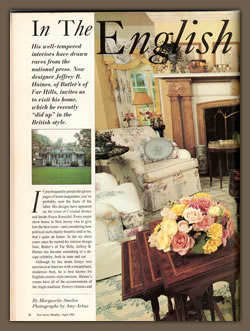 As with any Haines interior, the designer's own house exudes an air of formality. The furniture arrangements and artwork in each room are carefully balanced, a favorite Haines device. "You can use symmetry to impart a formal feeling, even if the elements are less formal," says Haines, who prefers to furnish his rooms with fine eighteenth-century pieces when he can get them and to "fill in" with turn-of-the-century English and French pieces and tasteful reproductions.
But Haines puts equal emphasis on comfort, especially where upholstered furnishings are concerned: Chairs "should be large enough for most people to sit in," he says. Haines also has fun playing the formal against the informal: pleating a ruffle, as he did on the living room curtains; adding a formal finish to a simple piece of furniture; or topping a crystal lamp base with a plaid shade, as he did in the family room.
The Haines residence also demonstrates its owner'stalent for mixing patterns. If all the fabric and carpet swatches used on the first floor were placed on one table, the sheer number of patterns might put you off. Why, then, doesn't the visitor feel overwhelmed?
"Your eye can take in only so much," admits Haines. "That's why you have to give each element the distance it needs." An individual seated at the dinner table will be able to appreciate close up the room's elaborate draperies – a hallmark of the Haines style – but will have only an impressionistic sense of those in the family room, glimpsed through an open archway.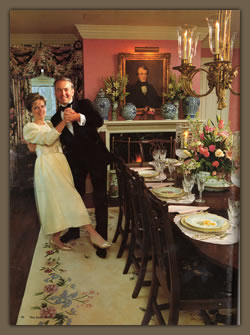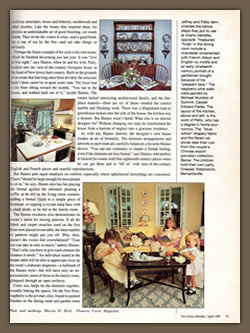 Color, too, helps tie the elements together, visually linking the spaces. On the first floor, raspberry is the pivotal color, found in painted finishes on the dining room and garden room walls as a leitmotif in the fabric in every room.
Blue is another favorite shade. "Patty and I have always loved blue, but what we've found living with it is that a dash of it goes a long way," says Haines. As a result, blue is found in primary accessories – the couple has an extensive collection of Chinese export porcelain – and in ornamentation, such as the soft French blue in the dining room drapery fringe.
While his talent for mixing patterns, approach to color, and sensitive use of architectural ornaments lead some to say, "I can always tell Jeffrey did the room," it is a mark of his genius that Haines's rooms have a curious way of bearing his mark, yet not looking "done by a decorator." I tell clients when we are finished with a room that there is still 10 percent that they ill be able to do themselves, if they so choose, to make it more theirs," says Haines.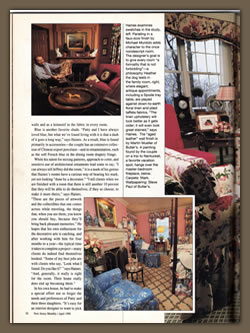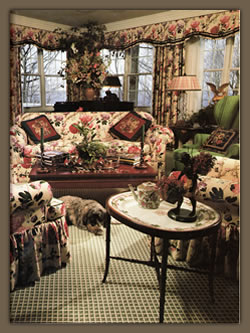 "These are the pieces of artwork and the collectibles that one comes across while traveling, the things that, when you see them, you know you should buy, because they'll bring back pleasant memories." He hopes that his own enthusiasm for the decorative arts is catching, and a working with him for four months to a year – the typical time it takes to complete a project – many clients do indeed find themselves hooked. "Some of my best jobs are clients who say, 'Look what I found. Do you like it?'" says Haines. "And, generally, it really is right for the room. Their home really does end up becoming them."
In his own house, he had to make a special effort not to forget the needs and preferences of Patty and their three daughters. "It's easy for an interior designer to want to pick out everything," he admits. Patty designed the kitchen and helped select certain accessories. The painting that hangs over the master-bedroom fireplace "was one thing I wanted us to find together," says Haines. Every time the couple look at it, they are reminded of the way in which it was found: Walking around Nantucket, on a glorious summer day, they saw an old gentleman painting it. Two days later, they saw the picture in a local gallery and purchased it on the spot.
As for the children, they are encouraged to take pleasure in their beautiful surroundings. In the Haines house, there are no gates guarding rooms for youngsters, no objects out of reach of tiny hands. "[From the time] our oldest daughter was three years old, we never lifted anything off the table, and the novelty quickly wore off," says Haines. "This is not a show house; this is a home. Patty and I feel very strongly that we wanted this house to be a place our children could grow up in."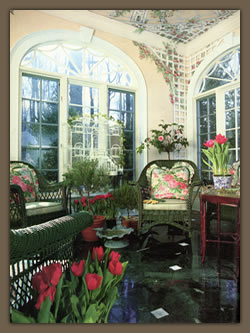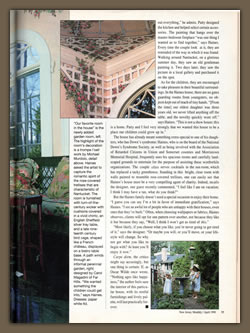 The house has already meant something extra-special to one of his daughters, who had Down's syndrome: Haines, who is on the board of the National Down's Syndrome Society, as well as being involved with the Association of Retarded Citizens in the Union and Somerset counties and Morristown Memorial Hospital, frequently uses his spacious rooms and carefully landscaped grounds to entertain for the purpose of assisting these worthwhile organizations. The couple often serves cocktails in the sun room, which has replaced a tacky greenhouse. Standing in this bright, clear room with walls painted to resemble rose-covered trellises, one can easily see that Haines's house must be a very compelling agent of charity. Indeed, recalls the designer, one guest recently commented, "I feel like I am on vacation; I think I may have a tan, what do you think?"
But the Haines family doesn't need a special occasion to enjoy their home. "I guess you can say I'm a bit in favor of immediate gratification," says Haines. "I can see an awful lot of people who are unhappy with their houses, even ones that they've built." Often, when choosing wallpapers or fabrics, Haines observes, clients will opt for one pattern over another, not because they like it but because they say, "Well, I think I wont get as tired of this."
"Most likely, if you choose what you like, you're never going to get tired of it," says the designer. "Or maybe you will, or you'll move, or your lifestyle will change. So why not get what you like to begin with? At least you'll enjoy it now."
Carpe diem, the critics might say accusingly, but one thing is certain: If, as Oscar Wilde once wrote, "Nothing ages like happiness," the author feels sure the interior of this particular house, with its restful furnishings and lively palette, will last practically forever.