Renovation of 1938 Palm Beach house kept original character intact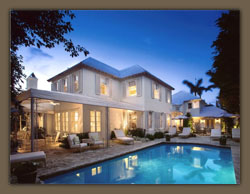 Love at first sight may be allusive in romance, but when it comes to house hunting in Palm Beach, it occurs more often than one might suppose.
Consider what Cassandra Henderson of Boston says about her home at 577 S. County Road, which was designed by noted society architect John Volk in 1938.
"From the moment I saw my house, I absolutely knew it was the house for me," says Henderson.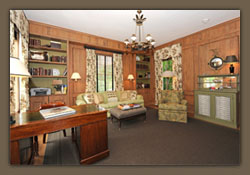 She bought the five-bedroom, five-and-a-half-bath home in 2004, and spent a year and a half renovating it, taking a sensitive hand with the project.
"I didn't reinvent it," she says, adding that others often take that approach with older homes.
"I live in Boston, and my home in Nantucket was built in 1820. I'm used to renovating. I enjoy it and I think it's important to preserve architecture. It's like stepping back in time."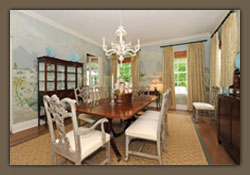 Henderson says it was fun working with decorator Jeffrey Haines of Butler's of Far Hills Inc., in Far Hills, N.J. He has worked on five projects with her, and handled the interiors.
"He's used to working on old homes, and he has great vision," she says, also praising her contractor, Jeff Daniels of GLD Construction in Boca Raton.
Since she spends more time traveling and less time in Palm Beach, she is selling her home through Gary Little and Lynn Warren of Fite Shavell & Associates for $5.75 million.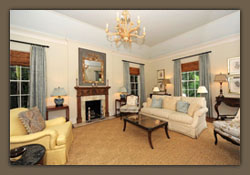 Standing on an Estate Section lot between Via Marina and El Bravo Way, the house has 5,348-square-feet of living space, inside and out. Although it's a Bermuda-style residence, its interior architectural details and color palette invoke a feeling of homes in Boston and Nantucket.
"We rebuilt the workings of the house," Henderson explains. "We redid floors, wiring and plumbing, and restored the old wood in the library. We concentrated on adapting the house for family and entertaining with modern conveniences."
Details were carefully chosen, from the bathroom fixtures by Waterworks, to the floors in the foyer and the breakfast room, which are covered in stone reclaimed from an old French chapel. Also in the foyer, pilasters have been decorated with distinctive Chinoiserie-style moldings.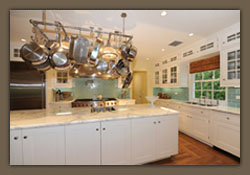 As part of the renovation, an upstairs porch was incorporated into the landing to create a seating area and additional closets, and a new pool cabana was added.
The living room is graced by an antique mantelpiece, while the library features built-in bookcases and cabinetry. A light-filled study off the living room features a Mexican paver floor, doors that open to a wraparound loggia and a crown molding of shells created by Robin Grubman.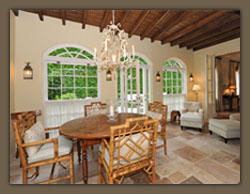 In the dining room, the hand-painted walls depict scenes reminiscent of China's Yangtze Valley, where Henderson had recently visited.
Henderson loves to cook, so she took special care redoing the center-island kitchen, which has parquet floors, Shaker-style white cabinetry, marble countertops and stainless-steel professional grade appliances. A hanging rack for pots over the island is both decorative and useful, and the soft-blue glass tile backsplash adds a bright decorative touch.
"It reminds me of the color of the water in Palm Beach when the sun is shining," she says.
The kitchen opens to the breakfast room, where the ceiling has exposed beams and the French doors offer views of the landscaped backyard and pool area.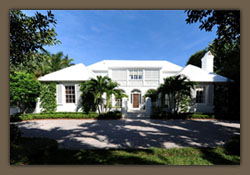 The second-floor guest apartment is accessed from a stairway off the kitchen and includes two bedrooms, a bathroom and a kitchen with a sitting area. Floors in this area are Dade County pine.
The main stairs off the foyer lead to the spacious landing that provides access to the master bedroom suite and two guest bedroom suites. A notable feature in the master bedroom is the unusual decorative crown molding.
"I have Gothic molding in my house in Nantucket, and Jeff thought it would remind me of my windows there," she says. "All-in-all, we did a lot of work, but the beauty of this house is that it looks like it was built in 1938, just as if John Volk handed the keys to the owner. That's Jeff's brilliant accomplishment."