J. Butler Haines' Nantucket Unveil of The 2013 Color of the Year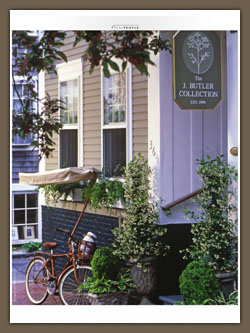 Every June 15, rain or shine, the cream linen window shade is lifted at the intimate J. Butler Collection shop on centre Street in Nantucket, just around the corner from cobblestoned main Street. It's the moment summer residents, visitors and designers from all around have been waiting for.
The Butler's of Far Hills truck has made its way from New Jersey's elegant horse country to this seabound enclave off cape cod, and the decorator's dedicated staff have carted in the big and small treasures Haines has collected all year. Haines himself has arranged them in the upstairs space, and brought in armloads of fresh flowers from the island, assessing and arranging everything just so.
People pile off the ferry and head up the red-brick sidewalk to the cozy shop. Residents stroll over after a berry shake at Nantucket Pharmacy. To every season there is a beauty, and a highlight of summer on Nantucket is catching a glimpse of this visionary's impeccable edit for the home. The season of style has officially begun and will run through Labor Day, when the shade is lowered again.
TRUE COLORS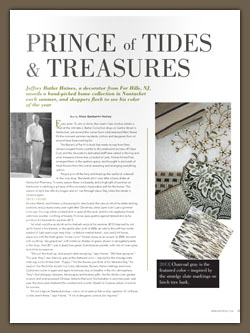 It's early March, and Haines is discussing his idea board, the one on which he starts tacking swatches and pictures every year right after christmas, when June is still just a glimmer in his eye. His crisp white collared shirt is open at the neck, and his rich raspberry V-neck cashmere sweater is a thing of beauty. His blue eyes sparkle against tanned skin as he points to his forecast for summer 2013.
Yet what could be as stylish as his rhubarb red pick for summer 2010 (inspired by old quilts found in his travels), or the gentle shell pink of 2006, an ode to the soft hue inside seashells? Last year's royal navy blue – a fashion market trend – also really hit home, especially with the fresh green "kicker color" Haines chose as an accent. In 2000, he went with soothing "sky-gray-blue" with botanical shades of green, shown in variegated plants in the shop. And 2011 was a dusty blue green Scandinavian palette, with lots of clean glass and white accessories.
"We pull the truck up, and people start snooping," says Haines. "we have groupies."
This year, they'll see charcoal gray as the featured color – inspired by the smudgy slate markings on birch tree bark. Poppy ("like the flowers you think of for Veterans Day," he says) will be the kicker accent in pillows, tableware, flowers, frame mattings and more. customers come in again and again to browse, buy or breathe in the chic atmosphere. They'll find antiques, dressers, tablescapes and hostess gifts, like the dainty silver garden scissors and solar-powered chinese lanterns that sold like hotcakes in summers past. Last year, the store even featured the coveted and colorful Quadrille couture jacket collection for women.
"It's not a typical Nantucket shop – not a lot of nautical fish or ship captains. All of those clichés aren't there," says Haines. "A lot of designers come to be inspired."
THE SANDS OF TIME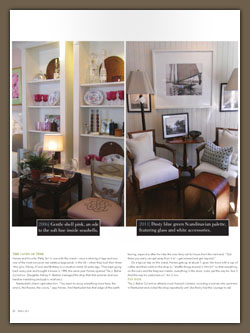 Haines and his wife, Patty, fell in love with the island – once a whaling village and now one of the most exclusive real estate playgrounds in the US – when they took their three little girls, Ashley, Allison and Brittany, to a vacation rental 24 years ago. They kept going back every year and bought a house in 1999, the same year Haines opened The J. Butler Collection. (Daughter Ashley H. Bastow managed the shop that first summer and now handles marketing and public relations.)
Nantucket's charm captivates him. "You seem to enjoy everything more here, the smells, the flowers, the colors," says Haines. And Nantucket has that edge-of-the-earth feeling, especially after he rides the slow ferry out for hours from the mainland. "Out there you really can get away from it all – get relaxed and get inspired."
On a typical day on the island, Haines gets up at about 7, goes into town with a cup of coffee and then walks to the shop to "shuffle things around a little bit" so that everything on the walls and the fireplace mantel, everything in the store, looks just the way he likes it. And the way his customers will like it, too.
FAN BASE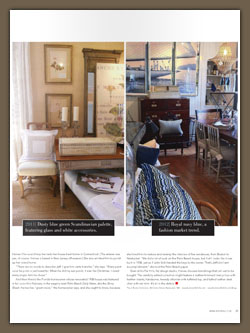 The J. Butler Collection attracts a well-heeled clientele, including a woman who summers in Nantucket and visited the shop repeatedly until she finally had the courage to ask Haines if he would help her redo her house back home in Connecticut. (The answer was yes, of course. Haines is based in New Jersey off-season.) She also enlisted him to polish up her island home.
There are no words to describe Jeff. I give him carte blanche," she says. "Every paint color he picks is just beautiful. When he did my sun porch, it was like Christmas. I loved every single item he chose.
And then there's the Florida homeowner whose renovated 1938 house was featured in full color this February in the eagerly read Palm Beach Daily News, aka the Shiny Sheet. Haines has "great vision," the homeowner says, and she ought to know, because she hired him to restore and revamp the interiors of five residences, from Boston to Nantucket. "We did a lot of work on the Palm Beach house, but it still looks like it was built in 1938, just as if John Volk handed the keys to the owner. That's Jeff's brilliant accomplishment," she told the Palm Beach paper.
Even at his Far Hills, NJ design studio, Haines chooses furnishings that call out to be bought. The carefully edited collection might feature a leather-trimmed linen pillow with feather inserts; handsome, tweedy ottoman with tuffeted top; and tufted leather desk chair with nail trim. It's all in the details.