Lessons in Entertaining From Dad
As Jeff's oldest daughter, I thought I would share a few things I have picked up along the way from this great natural entertainer.
I always thought it was strange that my parents had the holiday table set days before the actual celebration. The tablecloth, the china, the stemware, the flower containers selected, every detail considered. But here it is 4 days before Thanksgiving and I find myself washing my fine china and stemware so I can set the table for Thursday's big meal.
As some of you know I recently moved into a new home so I am really looking forward to hosting Thanksgiving in our new home, however at the moment this is the state of my dining room table…it is really more of a Lego table for my kids.
So will I be able to pull this off?…I guess we will have to see.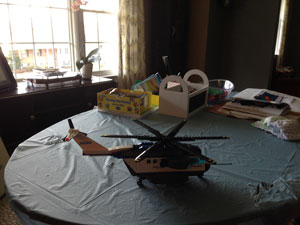 As I am cleaning my china it is bringing back great memories of preparing for my wedding…particularly shopping with my dad. I told him I wanted something classic but not too frilly. Something that I would like now and 30 years down the road… and of course he steered me down the right path. I loved browsing with him at Tiffany's, Saks, and local stores like the Eagle's Nest for just the right pieces.
And yes, 10 years later I still love what we picked. A classic white dinner plate with gold band and a beautiful blue and green Raynaud salad plate to add some color and detail. It really is "me". Dad is so good at understanding people's tastes and complimenting their lifestyle.
Fortunately I still have 4 days to pull these details all together…
Comments
No comments made yet. Be the first to submit a comment