Lessons In Entertaining From Dad Cont.
So how did I do with my Thanksgiving table?
What are some of the essential entertaining tips that I picked up through observation growing up with my dad?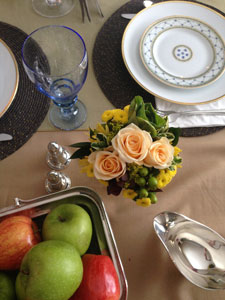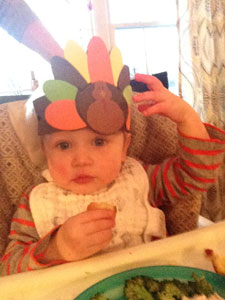 Preparing ahead – I'm so glad I did this. The table was set, I knew where the kids would sit, the water pitcher and wine decanter were ready, the flowers and candles were set and as the hostess it made the day go much smoother and enjoyable.
Lighting – Dim is always better with my dad. The sconces in our new dining room are outrageously bright and uncomfortable. So when dad was over recently I asked him "What do I do about this?" He suggested 10watt light bulbs. I would never have thought to go that low…but he was right. And of course candles on the table.
Flowers – Low mounded flower arrangements are often preferred so that people can see and talk over them…perhaps a couple of low arrangements rather than one large one. So I did one in a white basket weave pitcher and a smaller complementary one in a small Simon Pearce glass pitcher. And my daughter helped me arrange the apples on the table to add more autumn color and texture.
And I even think my youngest little turkey enjoyed the day and the meal!
Comments
No comments made yet. Be the first to submit a comment