Style with a Cause

Sparkling glasses, lavender tablecloths, on a late September balmy afternoon….. As some of you may know, I am the designer of Signature Style events at the Bernards Inn. Our most recent Signature Style event was a fundraiser hosted by the New Jersey Coalition for Inclusive Education (NJCIE), a nonprofit dedicated to the inclusion of students with disabilities in their neighborhood schools in preparation for living as independently as possible in their community.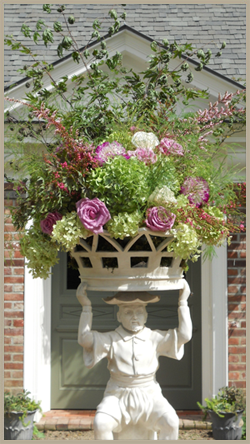 While the school year has begun, I felt that it was still a bit early to pull out the mums and typical autumnal accessories. The palette for the event was inspired by the final days of summer and very early days of autumn. The table settings and flower arrangements were soft and light filled with shades of lavender, eggplant, cabbage greens and soft pinks. The main centerpiece, a white lattice bowl atop an Asian figurine was overflowing with green tinged hydrangea, pink sedums, purple beautyberry stems, and Japanese maple leaves for dramatic height. The plates were stacked beautifully with a variety of flavorful appetizers – selected from an early autumn inspired menu created by Chef Heyer. My personal favorite was the smoked duck and fig jam pastilla.
One style tip I would like to share with you, especially for this time of year – take advantage of the produce stands -- fresh red and green cabbages make great props on tables. You can open up the leaves a bit and it begins to take on the appearance of a large rose bloom. The red cabbages are especially dramatic when sliced and the center is used as a colorful feature on the table – it provides great texture and color amongst flowers & greenery. For this Signature Style event, I interspersed the cabbages with radishes, asparagus and white pumpkins of unusual shapes which kept the tables colorful and fresh.
It was once again a pleasure to work with an organization on creating a Signature Style event and I will keep you posted on our next beautiful event.
-Jeff
Photography by Allison Haines (www.shutterfly.com/pro/ahaines/portfolio)
Comments
No comments made yet. Be the first to submit a comment