Metropolitan Styling at the Bernards Inn
Two more rooms with fresh personalities have recently been renovated at the Inn. Similar to the recently completed Metro 14 & 15, Rooms 19 and 21 provide the guests with elegance in an efficient space.
Both rooms continue the metropolitan styling of rooms Metro 14 and 15, as well as a distinct personality for each room. My concept for these rooms combines contemporary fabrics and colors with the classic elegance that the Inn is known for.
For Room 19, I chose a fresh uplifting apple green wall color. The tobacco stained headboard and furniture is beautifully contrasted by crisp white accessories and mirrored frames. The green and naturalistic textures and fabrics are soothing for the stay. For example, the fern details on the upholstery and accessories and the textural woven desk chair. In both rooms I strived to feature interesting wall décor. Room 19 has an art deco influence found especially in the lamps and wall décor frames.
Room 21 has a more masculine feel with toast colored walls accented by geometric chocolate brown upholstery, suggestive of an animal print. The wall décor is eclectic and interesting specifically selected for each room's personality. I particularly love the owl print in the linen frame…he seems so proud and sly in his stature. Again the sable colored furniture pieces are combined with lighter framed wall pieces and modern accessories.
--Jeff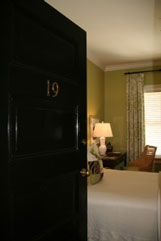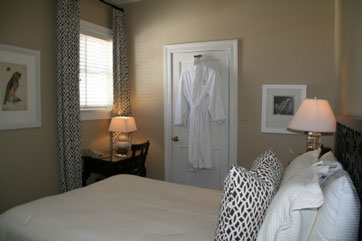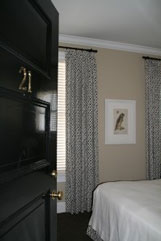 Comments
No comments made yet. Be the first to submit a comment