About Us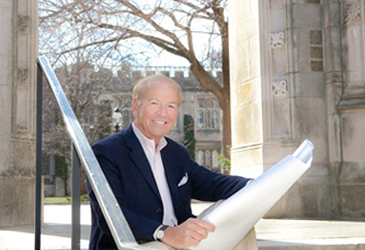 Jeffrey, a native of New Jersey, began Butler's of Far Hills, Inc. twenty-seven years ago. Jeffrey B. Haines' interiors have graced the cover of magazines and warmed the heart of homes from Boston to Palm Beach….touching spirits in Greenwich, Manhattan, Princeton, Kiawah Island, Naples and Vero Beach. Through strength it grew beyond the flagship location in Far Hills, New Jersey.
In 1998, The J. Butler Collection opened on the island of Nantucket in Massachusetts and ten years later The Annex warehouse collection was developed in 2008 next to the Far Hills studio. The Far Hills location includes a retail showroom on the first floor with the design studio, presentation area and design library on the upper floors.
Jeffrey's client's comments include~ his style is "consistent, but not predictable." Jeffrey excels at tying together all the details, often literally hundreds of details in a single room. He balances modern sensibilities with the integrity of period design and the layering of unexpected details to push boundaries of traditional interiors. The Butler's of Far Hills' team creates a style that compliments your life.
He has twice been cited on the House Beautiful list of "Ten Best Show House Rooms" in the country. Most recently, he received the Tulip Award at the 2010 Mansion-in-May Show House, a fundraiser for the Morristown Memorial Hospital. This award was given for his Living Room, which overwhelmingly was voted the #1 Room.
Along with interiors, event planning is one of his many talents. Planning an event with the "Jeffrey B. Haines Signature Style of Entertaining" will personalize elegance and ambience at your special birthday, anniversary, rehearsal dinner, wedding, or corporate party.